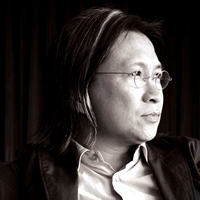 Peter Ho-Sun Chan is a Chinese film director, producer and screenwriter. Regarded as one of the most accomplished and successful Hong Kong filmmakers, Chan has directed many critically acclaimed films like Comrades, Almost a Love Story (1996), Perhaps Love (2005), The Warlords (2007), American Dreams in China (2013), Dearest (2014) and Leap (2020).
Born in Hong Kong, Chan is the son of Hong Kong film director turned newspaper columnist Chan Tung Man and mother Lam Man Ying. He spent his childhood years in the Tsim Sha Tsui section of Hong Kong, his teen years in Bangkok, Thailand, and studied film in Los Angeles during the early 1980s.
After working on several films as assistant director, Chan made his directorial debut with the award-winning Alan and Eric: Between Hello and Goodbye in 1991. Chan followed Alan and Eric with a string of popular box office successes, including He Ain't Heavy, He's My Father (1993), Tom, Dick and Hairy (1993), and He's a Woman, She's a Man (1994).
In 1996, Chan received international acclaim for Tian Mi Mi (1997 international release: Comrades, Almost a Love Story), a film about two mainland Chinese immigrants who fall in love and drift apart in pre-handover Hong Kong. The film Time magazine named Comrades one of the top ten films of 1997.
After Tian Mi Mi, Chan directed his first American production in coordination with DreamWorks SKG, 1999's The Love Letter starring Kate Capshaw, Tom Selleck and Ellen DeGeneres.
In 2000, Chan established Applause Pictures, a company dedicated to producing high quality Pan-Asian films intended primarily for Asian audiences. Films produced by Applause Pictures include Jan Dara (2001), One Fine Spring Day (2001), The Eye series (2002, 2004, 2005), Three (2002), Three…Extremes (2004), Golden Chicken (2002), Golden Chicken 2 (2003) and McDull, The Alumni (2006).
In 2002, Chan directed Going Home, a segment of Three, a horror anthology showcasing three short features by prominent Asian directors. Notable directors featured in the Three anthologies include South Korea's Kim Jee-woon and Park Chan-wook, and Japan's Takashi Miike. Chan also produced the 2002 thriller The Eye, directed by Danny and Oxide Pang, a film later remade as an American production starring Jessica Alba.
Chan followed his exploration of the macabre with a turn in the opposite direction with 2005's Perhaps Love, a musical love story set in Shanghai and Beijing starring Takeshi Kaneshiro, Jacky Cheung and Zhou Xun. The film closed the 62nd Venice Film Festival, and was Hong Kong's official entry for the 78th Academy Awards in the Best Foreign Language Film category.
After Perhaps Love came the historical war epic The Warlords (2007), starring Jet Li, Takeshi Kaneshiro and Andy Lau. The gritty tale brotherhood and betrayal set during the Taiping Rebellion in 1860s China garnered 8 Hong Kong Film awards and 3 Golden Horse awards, most notably Best Feature and Best Director.
In contrast to the lavish production and epic scope of films like Perhaps Love (2005) and The Warlords (2007), Chan's recent films are stories of hope, friendship and matters of the human heart, themes characteristic of his early work. With American Dreams in China (2013), a rags-to-riches story of three Chinese friends who achieve success teaching English to aspiring Chinese immigrants, and Dearest (2014), based on the true story of a divorced Chinese couple dealing with the abduction of their son, Chan demonstrates an ability to create socially-conscious, humanistic films that are also widely appealing to Chinese audiences. Chan is one of the few Chinese filmmakers working today who can create popular entertainment that explores issues of social concern common to the ordinary Chinese citizen.
In the spirit of supporting and fostering emerging filmmakers in the great China region, Chan produced actor turned director Derek Kwok-cheung Tsang's drama Soul Mate (2016), a cinematic portrayal of the agony and despair brought about by maturity, which made history of winning the unprecedented duo Best Actress Awards. He then produced his long-term collaborating editor Derek Hui's directorial debut This Is Not What I Expected (2017), a culinary-themed romance comedy starring Takeshi Kaneshiro and Zhou Dongyu.
Recently, Chan produced Sandra Ng's directorial debut Goldbuster (2017), Iwai Shunji's first Chinese language title Last Letter (2018), and Derek Hui's second directorial film Coffee or Tea? (2020).
His latest directorial films include Leap (2020) on the passionate story of the China Women's National Volleyball Team and Li Na (working title), a biographical drama feature on the first Asian tennis player to win a Grand Slam title. Leap (2020) is China's official entry for the 93rd Academy Awards in the International Feature Film category. Chan also garnered Best Director awards at the 27th Hong Kong Film Critics Society Awards and Hong Kong Film Directors' Guild Awards 2020.